Kitagawa-mura Yuzu Okoku Co., Ltd.
Industry Type - Commodities Handled
Foodstuffs, Agricultural and Marine Products Kitagawa-mura Yuzu Okoku Co., Ltd.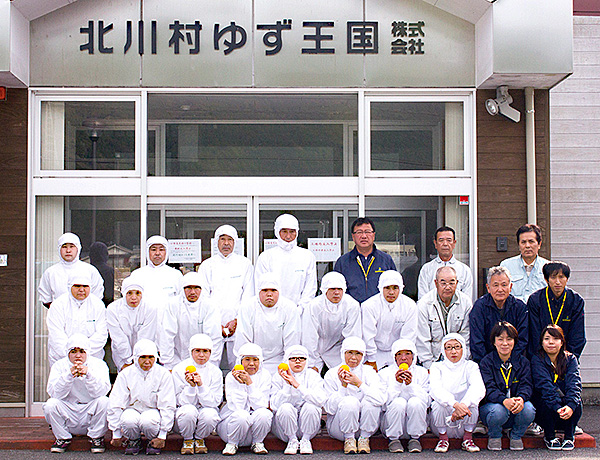 Kitagawamura Yuzu Okoku is a growing business in its 10th year since its founding. We were the first Japanese company to send whole, raw yuzu to France in 2012. A variety of processed yuzu and yuzu based products are exported all over the world. Our workshop is located in Kitagawa-mura. It is a yuzu village, and the fruit grows all over its mountains as far as the eye can see. It is a small village with a population of a mere 1300 people, but it produces 1300 tons of yuzu every year. Our workshop is bursting with the scent of yuzu, and inside we put our hearts into making yuzu based products that we can proudly send out into the world.
main item
Yuzu Tea

This yuzu tea was made with ample amounts of the skin and juice of yuzu and honey. In addition to drinking it, it can also be used in a variety of ways like spreading it onto bread as a jam or mixing it into yogurt.

Yuzu Cider

This cider is bursting with the delicious flavors of yuzu and a mild honey. It should be served very cold. It is great for shochu highballs.

Yuzu Ponzu

This yuzu ponzu is made with highly aromatic green yuzu skin and juice, and its subtle spiciness is well suited to the adult palate. Its sweet and sour tones are accentuated by a mellow spiciness from local Kochi green chilies that stimulate the appetite. It is very versatile and can be used in a variety of Japanese dishes like nabe, sashimi, yakiniku, grilled fish, or deep-fried dishes.
Company Profile
| | |
| --- | --- |
| Name : | Kitagawa-mura Yuzu Okoku Co., Ltd. |
| Name of Representative : | Reijiro Kato |
| Address: | 236-1 Kamo kitagawa-mura, Aki-gun, Kochi,  781-6443 |
| TEL&FAX : | TEL 0887-38-8747 FAX 0887-38-8750 |
| Website: | http://www.yuzuoukoku.jp |
| E-mail: | info@yuzuoukoku.jp |
| Capital: | 75,000,000 |
| Established: | October 2006 |
| Employees: | 35 |
公益社団法人 高知県貿易協会
所在地:高知県高知市丸ノ内1-2-20 高知県庁本庁舎内
TEL:088-821-0033 FAX:088-822-3065